TotalEnergies and Repsol lead, Gazprom lags in oil-sector race to reduce CO2 impacts
France's TotalEnergies SE and Spain's Repsol SA set the standard among European integrated oil and gas companies in oil-sector progress towards carbon neutral targets, with Russia's Gazprom PAO at the other end of spectrum, says Scope ESG Analysis.
TotalEnergies' leading position, according to Scope ESG's impact rating assessment, stems from the expected sharp drop in the cost of its GHG-related impacts by 2030 from a relatively modest cost in 2020 compared with its leading European rivals. The French company's external cost of carbon dioxide emissions will fall to an estimated EUR 0.66 per euro of revenue in 2030 from EUR 0.82 in 2020, a decline of 20%.
"TotalEnergies is the only European IOC to have defined an explicit quantitative reduction target for so called scope-3 or indirect GHG emissions, helping explain its industry-leading position," says Bernhard Bartels, executive director at Scope ESG.
ESG impact transformation grid: largest IOCs in Europe, US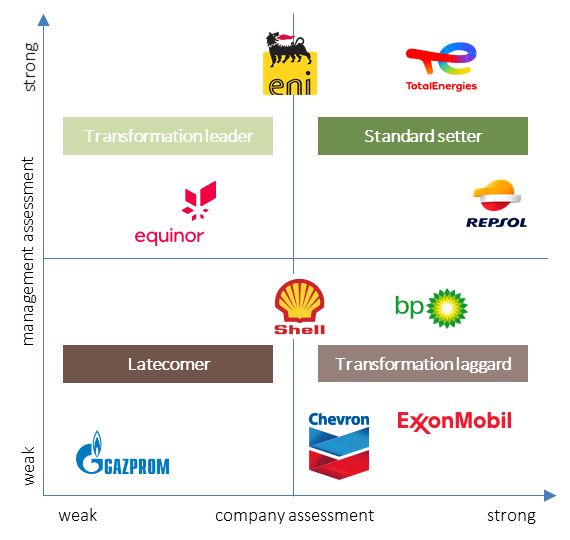 Source: Scope ESG Analysis
"TotalEnergies approach is significant given that the industry's sustainability commitments aim primarily to reduce carbon intensity at their own operations, whereas it is the consumption of the energy products that the industry supplies which is responsible for 85% of the sector's overall carbon footprint," says Bartels.
"Our analysis shows that, judging by planned capital expenditure, the financial commitments of the six largest European IOCs to reduce their carbon emissions are a small proportion of their windfall gains from high oil and gas prices as Russia's war in Ukraine has shaken up energy markets," says Bartels.
Spain's Repsol SA, which joins TotalEnergies as the other European IOC "standard setter" in Scope's ESG impact transformation grid (ESG ITG), incurs lower CO2 impact costs than its French rival at EUR 0.57 per euro of revenue by 2030 but that is a more modest decline of just 9.5% from EUR 0.63 in 2020.
"Italy's ENI SpA is a 'transformation leader' due to a clear, sustainability-driven strategy despite an otherwise poorer profile compared with BP and the two standard setters. The recently updated sustainability investment strategy and emission reduction targets are sufficiently ambitious for Equinor ASA to also be defined as a transformation leader," says Tetiana Markiv, associate analyst.
BP and Shell are positioned at the lower end of the ESG ITG due to high carbon footprint and lack of ambitious management strategy to address climate changes, with estimated declines in their CO2 impact costs of 1.3% to EUR 1.10 and 2.6% to EUR 1.32 per euro of revenue respectively by 2030.
Russia's Gazprom is a 'latecomer', with the heaviest carbon footprint and no quantified transition strategy. US IOCs tend to lag their western European rivals.
Cost of CO2 emissions of European integrated oil & gas companies, 2020 vs 2030F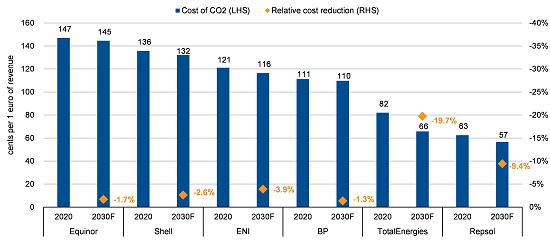 Scope notes that the overall estimated cost for each European IOC exceeds EUR 0.60 per euro of revenue, placing oil and gas industry at the bottom of Scope's indicative ESG Impact Rating scale (see appendix III in full report for details).