Italian NPL collections: H1 volumes 12% below pre-Covid levels
Italian NPL collections rose 27% month-on-month in May, although average volumes in the first half were 12% lower than they were pre-Covid.
In May, five transactions registered note sales, with Leviticus SPV S.r.l accounting for 61% of proceeds. Note sales in May represented a similar share of overall collections as in February and March, although they rose fourfold against April. Judicial proceeds fell 7% in May and DPOs fell 11%.
Over the past two years, note sales have been stable for half of Italian NPL transactions. For the other half, no clear trend is discernible and trades have been opportunistic.
Italian NPL collections: total gross proceeds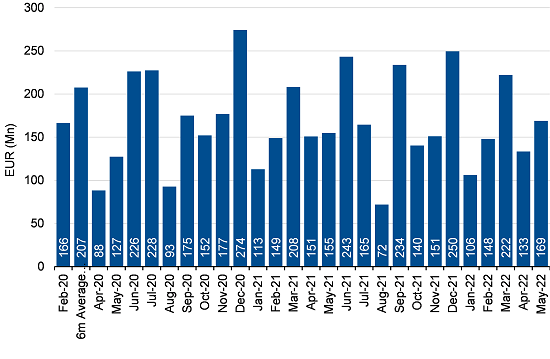 Source: Scope calculations on servicing reports
Download the latest Italian NPL monthly here.
Access all Scope rating & research reports on ScopeOne, Scope's digital marketplace, which includes API solutions such as for Credit Sphere.