Ukraine crisis underpins metal price rally: miners benefit; energy costs pressure downstream sector
The war in Ukraine and sanctions on Russia are supercharging the upswing in metal prices given Russia and Ukraine are such important sources of metals in an already tight market due to the rebound from the Covid crisis and energy-transition investments.
By Tommy Träsk, Director, Corporate Ratings
In these circumstances, the credit outlook for the mining industry is positive as buoyant prices and strong cash flows increase headroom in terms of the companies' financial policy targets, strengthen liquidity and improve the prospects for growth – all while capital expenditure remains relatively subdued. Aggregate capex by Anglo American PLC, BHP Group, Glencore PLC and Rio Tinto PLC – the big four global mining companies - rose just 5% in 2021 from the year before compared with an eye-watering near three-fold increase in shareholder remuneration, much in line with earnings growth.
Cash-flush: net profit, shareholder remuneration at Anglo American, BHP, Glencore, Rio Tinto (USD bn)
*Distributions announced for H1 2022. A/B=Shareholder distributions as a % of prior year earnings.
The picture is mixed for the downstream sector (smelting, refining, metal processing), where rapid cost inflation for gas, electricity, metals, freight and other inputs creates challenges for many producers. Particularly vulnerable are those focused on commoditised products or products at risk of substitution, for example the replacement of aluminium caps for bottles with cheaper plastic alternatives.
Russia is a significant supplier most notably of palladium and other platinum group metals in addition to nickel, aluminium, steel and copper. Ukraine, a significant producer of titanium and iron ore, is host to one of Europe's largest reserves of uranium, titanium, manganese, mercury and coal.
Russia, Ukraine metals output: share of global metals production 2021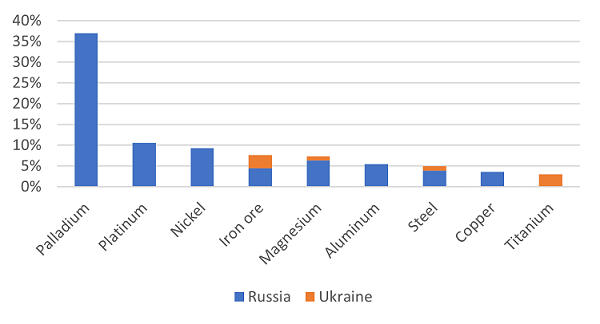 Iron ore, nickel, titanium and PGM mine production, aluminium and manganese smelter and copper refinery production. Source: U.S. Geological Survey 2022
Although no sanctions have yet been imposed on Russian metal exports, both mining operations in Russia and the transport of metals to export markets will become difficult with shipping lines, insurance companies and ports potentially suspending business with Russian counterparts. Some of the world's largest shipping companies have suspended container shipping to and from Russia for non-essential items. This will not only affect market prices, but producers that have until now relied on feedstocks from Russia and Ukraine, may have to look for alternative sources of supplies at a higher cost.
The spot price for aluminium stands at an all-time high and the spot price for nickel at its highest levels in a decade, two metals for which Russia is a major global producer. Futures prices for base metals are overall in backwardation (futures prices lower than spot prices) however, suggesting a supply response is expected to eventually result in a more balanced market.
Base metal prices for the past two years (LME)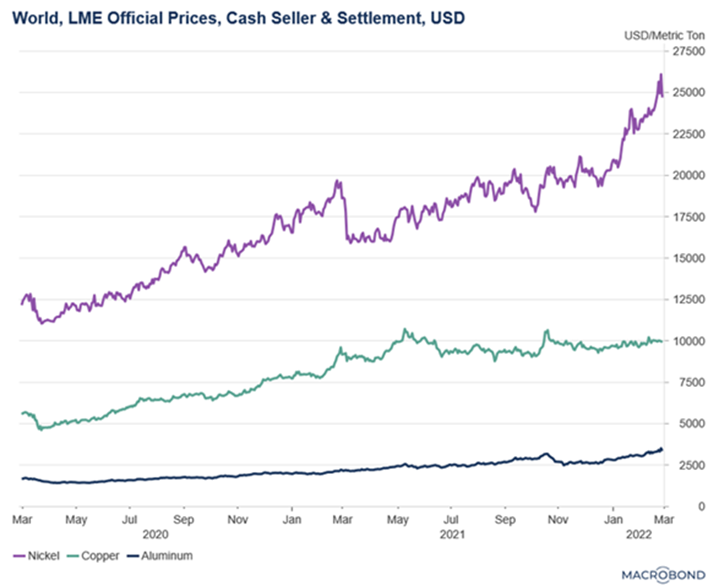 That said, futures prices for 2022 and 2023 remain at very high levels by historical standards. The futures price curves for steel and scrap are flattish, while futures prices for gold and silver are currently in contango.
With additional mine supplies taking time to come onstream, the rally in prices is likely to continue into 2023, and even longer for base metals benefiting from the energy transition, implying continued high earnings, cash flow and shareholder returns for the miners. This outlook is reflected in our ratings for the industry, with 25% of ratings on Positive outlook, and the remaining 75% on Stable outlook.
The top-four global mining companies have demonstrated their confidence by announcing even higher distribution for H1 2022 (56% of total distribution for 2021). Miners are operating at very low financial leverage, with significant headroom to their respective over-the-cycle leverage targets.
Not every producer is doing well, however. Several European aluminium producers have cut production in 2022 due to rising gas and electricity prices. Global steel production is also down significantly year-on-year from August 2021 to January 2022 according to World Steel Association data.
The situation for producers that are unhedged against rising electricity prices could get much worse if Russia decides to reduce gas supplies to Europe in retaliation for sanctions and support for Ukraine -- see Scope's European energy price crunch aggravated by Russia-Ukraine conflict, 25 February 2022. Record freight rates are also putting pressure on producers that typically ship products over long distances to reach end-markets.