EU retains multibillion-euro spare funding capacity to further support member states, Ukraine
The EU (AAA/Stable) could provide Ukraine with at least EUR 10-12bn in direct emergency support, reflecting its considerable financial buffers to offset, at least partially, the impact of the war with Russia, says Scope Ratings.
In addition to the funds potentially available to Ukraine through emergency macro-financial assistance, EU member states themselves still have approximately EUR 233bn of loans under the Recovery and Resilience Facility that can be requested until August 2023 as part of the Next Generation EU (NGEU) programme to promote growth and investment after the Covid pandemic.
These EU funds are helping offset the adverse economic impact of the war in Ukraine on large euro area countries, boosting GDP levels until end-2023 by between 0.3 to 1.6%.
"The NGEU programme, though not directly a response to Russia's war in Ukraine, will support European governments through 2022-24, when most grants will be disbursed, just as member states face the economic consequences of reducing their reliance on Russian fossil fuels," says Alvise Lennkh, deputy head of sovereign ratings at Scope.
"The EU also has the means to increase direct financial support to Ukraine and other non-EU countries experiencing the adverse knock-on economic effects of the war," says Lennkh.
The EU's MFA loan of EUR 1.2bn to Ukraine (CCC/Under review for developing outcome) is modest compared with the Ukrainian government's estimated funding gap of around EUR 15bn for the next three months. USD 6.5bn raised at the recent High-Level International Donors' Conference for Ukraine will help in partially filling that funding gap.
"However, a more sizeable package of support for Ukraine is well within the financial reach and legislative frameworks of the EU, also given its robust AAA-rated credit profile" says Lennkh.
Europe boosted by NGEU funds: RRF grant, loan requests & approvals
EUR bn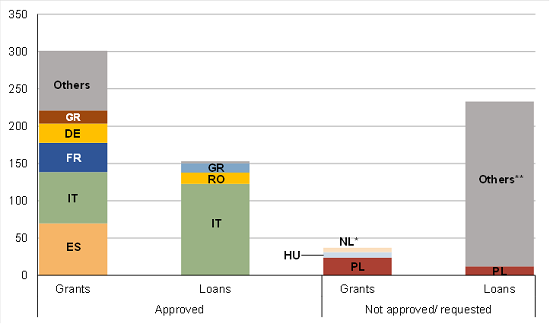 *The Netherlands have yet to provide their recovery plan following a change in government. **The maximum amount that is left from the original EUR 386bn envelope following the approval of six loan requests, mostly Italy's.
Source: European Commission, Scope Ratings.