Nordic utilities: north-south price gap benefits southern generators; TSOs also gain
Nordic utilities will likely face a prolonged period of high electricity prices, but divergence between pricing in the north and south of Norway and Sweden favours southern generators over regulated network operators, says Scope Ratings.
The current energy squeeze in Europe, low rainfall in the southern Nordic region and the north-south-Nordic transmission bottleneck have led to record high power prices in the south for many months. In contrast, in northern regions, prices have touched record lows, as rainfall has replenished hydroelectric reservoirs, while transmission capacity to southern regions remains limited.
"Electricity generators in the south have benefited from high prices which, given the high proportion of fixed costs in the Nordic sector, should boost earnings, creditworthiness and the credit outlook," says Michael-Marco Simonsen, analyst at Scope Ratings.
"The pricing divergence is just one example of Europe's still disjointed power markets, which Russia's use of its energy exports as a weapon in its war with Ukraine has exposed even more clearly this year," Simonsen says.
Nordic power prices by region vs. the Nordic system price (EUR/MWh)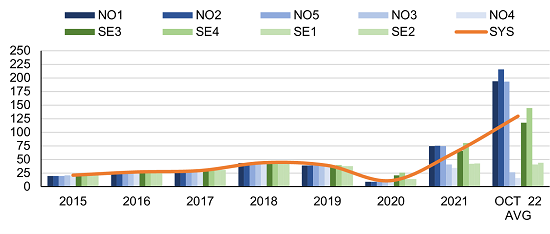 Source: Nord Pool, Scope
Norway's windfall tax could endanger future investment
"One condition for the utilities' prospects to improve is that Norway's newly proposed windfall tax is implemented in a way that does not significantly cap investment capabilities," Simonsen says.
"Another is that companies do not deploy excess cashflow on discretionary spending: extraordinary dividends or investments with limited cashflow potential," he says.
Lastly, higher prices have put the spotlight on generators' hedging strategies and their liquidity, should divergence in market prices from hedged ones lead to more margin calls.
Grid operators' earnings, in contrast, are largely immune to swings in market power prices as the long-term upside and downside is capped by regulations. Regulated tariffs ensure aggregated cash flows remain stable over time.
The consequences of the unusual price environment are more nuanced for the transmission service operators (TSOs).
Norwegian TSO Statnett and Swedish counterpart Svenska Kraftnät (SvK) are near-term beneficiaries of the current regional price differences and congestion income from interconnectors to Europe. However, the price differentials suggest the TSOs will face increasing capital expenditure to reduce these bottlenecks, which could weigh on credit outlooks.
For now, any short- to medium-term increase in capex is more likely to come from bringing forward projects rather than embarking on new ones particularly as decisions over investments at the TSOs tends to be lengthy and tied up with national politics.
Access all Scope rating & research reports on ScopeOne, Scope's digital marketplace, which includes API solutions for Scope`s credit rating feed, providing institutional clients access to Scope's growing number of corporate, bank, sovereign and public sector ratings, including the following Nordic utilities.