Poland's coal-power carve-out plan promises credit gains for Polish utilities – with caveats
Carving out the coal assets of Poland's power utilities into a separate state-owned company would be credit positive, improving their longer-term business profiles and capital-market access, assuming a fair valuation for the legacy businesses.
By Kamila Hoppe, Senior Specialist, Corporate Ratings
The plan put forward by the outgoing Polish government is designed to speed up the country's energy transition given that more than a half of the country's installed power-generation capacity still runs off coal, though the move would also address questions of energy security.
The country's three state-controlled utilities PGE Polska Grupa Energetyczna SA, Tauron Polska Energia SA, Enea SA and their smaller rival Energa (part of PKN Orlen since 2020) own the lignite and coal assets. The utilities can increasingly ill afford to invest in them if they are to successfully switch to more sustainable power generation. Poland recognises that it needs to invest more than PLN 1trn (EUR 0.23trn) by 2040 to replace the country's ageing coal-fired power plants.
If a new centre-right government sticks with the proposed carve-out of the assets to a government-owned entity controlled by Poland's National Agency for Energy Security (NABE), it would free the utilities of the coal and lignite assets which make up much of their power-generation line-ups (Figure 1).
However, the timetable for the coal spin-off remains unclear after previous delays, while there are no definitive discussions on the valuation of the utilities' coal assets, crucial for assessing the strength of their capital structure after any deal is completed.
In addition, the newly elected Polish parliament needs to pass a new law for the energy-sector shakeup to take place which may require additional state-aid and/or competition approval from the European Commission.
Figure 1: Coal-weighted: Polish utilities power generation by fuel source, 2022
Generation volumes, %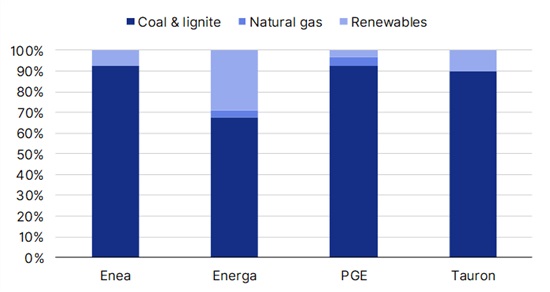 Source: Scope, Enea, Energa, PGE, Tauron
Carve-out plan stands to benefit utilities, government, wider economy
Shorn of their most inefficient and polluting businesses, PGE, Tauron and Enea, would likely find it easier to borrow from banks and tap capital markets particularly through green or sustainability-linked loans and bonds as other EU-based utilities such as Italy's Enel SpA and France's Engie have done for some time.
Putting the utilities on a stronger financial footing – the state is offering utility companies around PLN 18bn (0.5% of GDP) in aggregate in the proposed deal – and creating more financial headroom for accelerated investments in renewables would also help Poland meet a new binding renewable energy target of 47% of gross final energy consumption by 2030, up from the previous target of 23%, equivalent to doubling the share of renewable energy in country's energy mix.
Pulling off such an ambitious green deal for Poland's energy sector economy would support competitiveness of the general economy by easing energy transition-related bottlenecks weighing down on the sovereign's A credit rating.
However, meeting Poland's energy-transition targets has become more difficult. Poland's dependence on coal has grown since Russia's escalation of the war in Ukraine in 2022 and the imposition of sanctions on Russian energy imports. No longer able to rely on cheaper Russian coal imports as coal prices have risen, Poland has had to turn back to inefficient domestic coal-fuelled power generation.
Figure 2: Poland's utilities coal-fired blues: reliance on legacy assets crimped earnings in 2022 (in PLN bn)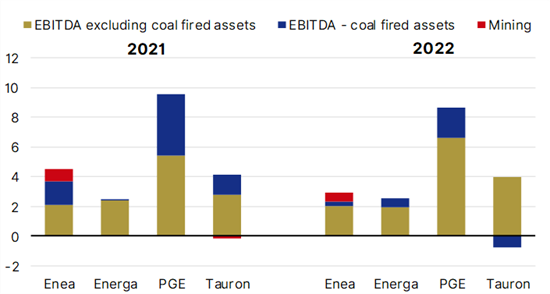 Source: Scope, Enea, Energa, PGE, Tauron
Energy reorganisation implies de-risking of utilities generation portfolios
From a credit perspective, PGE, Tauron and ENEA and Energa would likely grow their regulated asset base and thus improve their industry-risk profiles as they invest more in power grids and heating networks. Moreover, the carve-outs would lead to a de-risking of the generation portfolios and mitigate the risk of the utilities ending up with significant stranded assets.
Reducing the utilities' exposure to volatile coal prices will also likely reverse the recent degradation of profit margins. And increasing their exposure to zero- and low-commission power generation will improve the utilities' standing in the merit order in Europe's wholesale electricity market.
The carve-out will also improve leverage metrics for the companies and provide necessary headroom to finance replacement of coal-generation volumes with more sustainable alternatives while developing regulated power-transmission and distribution activities. Among the four utilities, only PGE can afford the wind down of its coal business without government support (Figure 3).
Figure 3: PGE has least leverage among Poland's utilities (Scope-adjusted debt/EBITDA)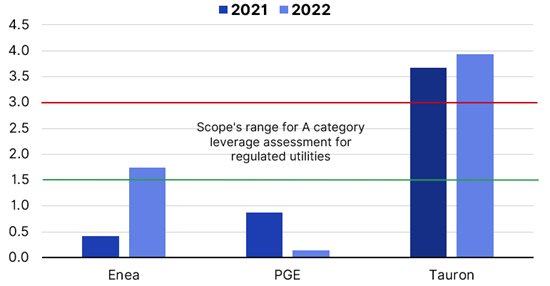 Note: Scope, Enea, PGE, Tauron
Energa as part of the PKN Orlen is excluded from leverage metrics comparison.
Benefits skewed in PGE's favour; significant investment challenges remain
The benefits of the planned carve-out will not be evenly shared by the four major utilities. Tauron and Energa have comparable business profiles benefiting from large share of regulated distribution in their sources of EBITDA, which provides good cash flow visibility. However, Tauron relies more heavily on coal-fired power generation. The biggest beneficiary of a coal asset carve-out will be likely be PGE judging by the huge exposure to such assets.
Much is riding on the agreed valuation of the coal assets. Should the sale price be too low, this could lead to leverage deterioration, especially in the short-term, at least until new installed capacities are in place. Moreover, the valuation is too low, this could also put more pressure on the FOCF and external funding needed for the shifted investments.
Furthermore, the need for accelerating the transformational shift of business models comes at a time of higher capital requirements for new investment which reduces internal rates of return and thus threatens investment in case hurdle rates for new investment are not lowered.
Finally, the planned carve-out will necessitate more investment by the utilities in distribution as well as heating. It will also take time to replace the lost coal-fired generation capacity with new renewable and low-emission alternatives.
Dennis Shen, Senior Director, Sovereign and Public Sector, contributed to this report
Access all Scope rating & research reports on ScopeOne, Scope's digital marketplace, which includes API solutions for Scope's credit rating feed, providing institutional clients access to Scope's growing number of corporate, bank, sovereign and public sector ratings.