Russian oil embargo: Europe faces manageable cost squeeze; Russia's long-term growth outlook worsens
The EU's partial oil embargo on Russia promises a more intense inflationary squeeze on household and corporate budgets and more pressure on public finances as energy-sector investment to minimise reliance on Russia fossil fuels increases.
By Levon Kameryan, Associate Director, and Eiko Sievert, Director
The embargo agreed by the EU comes as Russia's war on Ukraine and its impact in aggravating inflation has already diminished the region's growth prospects this year and next. We revised down our growth projection for EU's Central, Eastern Europe region to 2-3% this year, from the December forecast of 4.6%. Similarly, growth in Germany (AAA/Stable) is projected to halve to 2.3% this year (December forecast 4.4%), recovering to just 3% in 2023.
Downside risks remain high in case of a further intensifying of inflationary pressures or signs that core inflation has become entrenched. Further significant fiscal support in the near-term is likely even though most governments have already announced support measures to help cushion households and businesses from rising energy prices and broader inflationary pressure.
The move significantly increases the risk that Russia will expand economic retaliation against EU members, including by further interrupting energy supply before the EU's boycott takes full effect.
Medium term, pressure on public finances, already stretched from the pandemic, will rise as governments foot part of the bill for building alternative energy infrastructure, from storage facilities to new renewable and nuclear generating capacity and natural gas distribution networks.
The temporary exemption for the Druzhba pipeline illustrates the difficulty of finding a consistent EU approach under current EU rules when individual countries are particularly dependent on Russian energy. While this reduces the overall effectiveness of the sanctions, it does not signal a broader lack of political commitment by the EU as three quarters of Russian oil imports will be impacted immediately, increasing to 90% by the end of 2022. Reaching agreement will be more challenging when gas embargos are considered.
The reliance on Russian oil varies across the EU
Share (%) of Russia in national extra-EU imports of oil, 2021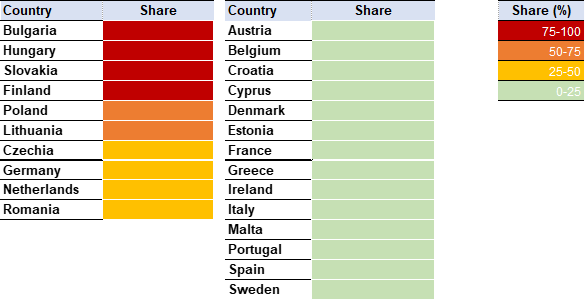 Source: Eurostat, Scope Ratings; *no data for Latvia, Luxembourg and Slovenia
The energy crisis highlights the urgency for the EU to create an energy union for member states to better co-ordinate energy policies and improve energy security. This, however, will be challenging given different starting points in terms of energy mix.
Europe has relatively good oil import, transport and storage infrastructure and crude is more easily sourced from other regions given international oil markets are more liquid than gas markets. Cutting reliance on Russian oil imports is therefore easier than for natural gas.
Longer-term, the improved diversification of energy supply coupled with the realization of its ambitious climate change agenda should improve EU energy security and sustainability.
For Russia, the embargo could drive oil prices even higher, but any export gain will be partially offset by the steep discounts Russian oil producers will have to offer to buyers in Asia – principally China and India – to compensate for secondary-sanctions risks and the cost of developing new infrastructure.
A complete replacement of the European market for Russia is out of reach any time soon, especially given that the EU and UK plan to ban Russian oil insurance. First, Russia's energy infrastructure is predominantly geared to the west. Immediate expansion of pipeline oil supply to China is limited due to capacity constraints. Secondly, oil has historically been much more important than gas for Russian state finances, hence the greater effectiveness from an EU perspective of an oil rather than a gas embargo. Last year, oil and gas together generated 36% of federal budget revenues (48% for the first four months of this year), with oil accounting for 80% of this aggregate. The embargo raises costs for the Russian energy sector and the real economy not least in terms of rouble convertibility longer-term.
Nonetheless, Russia has generated more export revenue from gas than oil since the escalation of the war due to soaring gas prices and the discounts on Russian crude – income which could be used to help the domestic economy. In the first four months of 2022, Russia's federal budget collected 50% of planned RUB 9.5trn (or USD 132bn) in annual oil and gas revenue.