Italy: institutional, political, market constraints to ensure broad post-election policy continuity
Political and economic constraints – domestic and European – will likely limit any new Italian government's room for rolling back reforms and pursuing unorthodox economic or loose fiscal policies, containing risks to Italy's BBB+/Stable ratings.
By Alvise Lennkh-Yunus, Executive Director and Giulia Branz, Senior Analyst
The centre-right coalition led by far-right leader Georgia Meloni's Fratelli d'Italia (FdI), Matteo Salvini's Lega and Silvio Berlusconi's Forza Italia (FI) has a significant lead in opinion polls, with over 45% of support according to the most recent surveys.
While the stated pre-electoral policy preferences of this coalition could weaken Italy's economic and fiscal outlook, we believe the constraints any Italian government faces once in power will significantly curtail its room for manoeuvre and thus ultimately determine a narrow set of economic policy options.
Opinion polls on Italy's 2022 general elections*
% of voters' support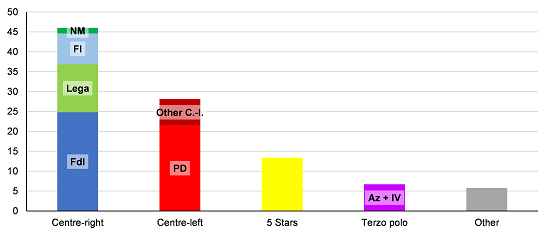 *Italy's next parliament will have a reduced number of seats, 400 for the Lower House and 200 for the Senate. The mixed voting system allocates 37% of the seats on a first-past-the-post system and 63% on a proportional basis. In the first-past-the-post districts, the voting system strongly favours parties able to form coalitions, which benefits the political right.
Centre-right: FdI (Fratelli d'Italia), Lega, FI (Forza Italia), NM (Noi Moderati); Centre-left: PD (Partito Democratico), Other Centre-left inlcude: Alleanza Verdi e Sinistra, + Europa, Impegno Civico; Terzo polo: Azione, Italia Viva.
Source: Poll of polls by BiDiMedia
Still, the coalition partners' talk of revising the country's Recovery and Resilience Plan conflicts with the sustained progress Italy needs on economic reforms to address the country's long-standing economic bottlenecks. They are also vital to enable the swift absorption of the EU recovery programme funds to support the medium-term economic outlook.
In addition, some of the coalition's ambitious fiscal proposals would likely prove costly, including the introduction of a flat tax and a tax amnesty, higher pension benefits and lowering the retirement age limit. This contrasts with Italy's need for a prudent fiscal policy aimed at a gradual return to a primary budget surplus over the coming years to ensure the sustainability of its high public debt of around 150% of GDP. This is critical given the weakening outlook for growth due to the ongoing energy crisis, rising inflation and tighter monetary policy.
Italy likely to stay broadly on reform track
We believe the risks that Italy postpones or even reverses reforms and prudent fiscal policy over the coming 12 to 18 months are manageable. This is because of the domestic and European, political and economic constraints any Italian government faces once in power.
First, domestically, a lasting far-right coalition able to implement its policy agenda over several years is not a given even if the parties win a parliamentary majority, considering significant policy differences in many areas and rivalry between their leaders. For example, the Lega is pushing for higher deficits while FdI is committed to fiscal prudence. In an inconclusive political scenario, a unity government with technocratic leadership could yet again emerge. In addition, as close to 40% of the electorate are still undecided, surprises are possible and may affect Italy's next government formation. We also note that post-election alliances and coalition configurations can easily shift in Italy's fluid political environment and may thus curtail the ability of the far-right alliance to implement its agenda over the coming years.
Secondly, Italy's political system retains important checks and balances. A two-thirds parliamentary majority is needed to change the constitution. In addition, President Sergio Mattarella has an influential role in crisis management and proved resolute in the past, vetoing the appointment of a euro-sceptic finance minister during the Lega-5 Stars government in 2018, appointing the Mario Draghi government during the Covid crisis and calling early elections at short notice in July.
Thirdly, Italian public opinion is at odds with some of the extreme parties' preferences. Most Italians continue to support the euro (71%), favour economic stability and remember previously voted populist governments floundering only a few years ago. Indeed, Meloni has moderated her stance in recent weeks, committing to economic and fiscal prudence and to support the Europe-centric geopolitical positioning of Italy.
Strong EU, market incentives to challenge fiscal activism
At the European level, Italy's position as a leading beneficiary of the NGEU programme, set to receive EUR 191.5bn in funds until 2026 (around 10% of Italy's GDP) provides strong incentives for the implementation of reforms on which EU disbursements are conditional. Reassessing parts of the recovery programme may be justified at the margins, but the European Commission will not allow Italy to set a precedent for renegotiating the substance of the plan.
Secondly, an incoming government knows that the eligibility of Italian bonds for the ECB's planned Transmission Protection Instrument will depend, among other factors, on the country's prudent economic and fiscal behaviour. Indeed, any indication that Italy is wavering in its commitment to sound policies is likely to be jumped on by investors and lead to further rising yields on Italian government bonds.
Public debt is to remain high at around 145%-150% of GDP over the coming years, about 15-20pp above pre-Covid levels, resulting in high gross financing needs at around 25%-30% of GDP. With the 10-year BTP already at around 4%, this implies very limited, if any, fiscal space for Italy's next government given the country's weak medium-term growth outlook.
In these circumstances, it is unlikely that a new Italian government deviated significantly from current reforms and fiscal policy putting at risk Italy's currently strong relationships with the EU. Instead, we ultimately expect broad policy convergence and continuity with the EU for Italy to retain access to exceptional support from European institutions under stressed scenarios, which critically supports our Stable Outlook on Italy's BBB+ credit ratings.