France: higher interest rates, lower growth to weigh on debt dynamics unless reform accelerates
The French government needs to accelerate structural reforms to achieve its debt-reduction objectives, modest though they are, as interest rates rise and the economy grows more slowly than expected.
By Thomas Gillet, Associate Director, Sovereign and Public Sector
The difficulty for President Emmanuel Macron is that enacting further growth-enhancing reforms requires particularly delicate and difficult manoeuvring – his government lacks a parliamentary majority – while the energy crisis is putting extra pressure on public finances and risks stoking social unrest through the winter.
In the meantime, the government's announced estimated financing requirement for 2023 of nearly EUR 300bn is among the highest on record. It would be mainly covered through the issuance of medium- and long-term borrowing of EUR 270bn net of buybacks, up from EUR 260bn in 2022.
France (AA/stable) has consistently missed fiscal and debt targets in the past and looks as if it will do so again. Our baseline scenario, which assumes a less favourable interest rate and macro-fiscal outlook (real GDP growth of 1.5%; primary deficit of around 3% of GDP on average over 2022-27) results in a moderate rise in public debt to GDP to 115.6% of GDP by 2027. In less optimistic scenario, debt-to-GDP rises to more than 120%.
For now, the government projects[1] a decline in public debt to 111.7% of GDP in 2025 and to 110.9% in 2027 as the public deficit falls below 3% of GDP by 2027, even though sensitivity of the fiscal trajectory to rising interest rates has increased in recent decades as France piled up 77 points of GDP in public debt since the 1990s under what were improving financing conditions (Figure 1).
Figure 1: Yields on French bonds turned on the rise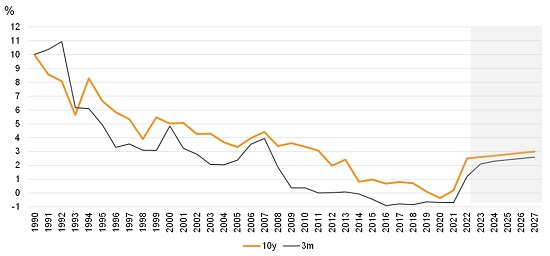 Note: government benchmark for 1990-2021; projections based on short- ("Bons du Trésor Français", 3-month) and long-term rates ("Obligations Assimilables du Trésor", 10-year) as per the public finance programming law 2023-2027. Source: Macrobond, Ministry of Finance, Scope Ratings
French government's baseline fiscal, economic assumptions look rather optimistic
The government's baseline assumptions remain broadly optimistic: 10-year bond yields at 2.5% as of end-2022 (its highest since 2011) and at 2.6% as of end-2023, against 2.3% in early December 2022. The ECB has signalled interest rate increases to come, so the government's less optimistic scenario in case rates exceed current projections by 200 basis points may prove more realistic: an interest-rate burden of EUR 94bn (or about 3.3% of GDP) in 2027 rather than the baseline forecast of EUR 61bn (2.1%), up from EUR 37.5bn (1.6%) in 2023.
The government projects a gradual decline of the deficit, to be potentially amended under the reform of the EU fiscal policy framework, but the pace of expenditure-based fiscal consolidation would be at risk if the withdrawal of measures to protect business and households from high energy prices is delayed as appears likely.
The antagonistic budgetary process, with the government relying on decrees rather than votes in parliament, underscores France's fragmented politics, increasing the danger of fiscal slippage and only timid reforms. It also raises the risk of early elections should the parliamentary status quo that resulted from the June 2022 elections lead to legislative deadlock.
Pension reform remains central plank to economic policy
The Macron government is counting on reforms, principally that of France's pension system, to improve the country's growth potential (estimated at 1.35%) and reducing primary deficits. Any blockage will cast doubt over real GDP growth projections of an increase from 1.0% in 2023 to 1.8% in 2027 despite the more difficult economic climate.
Weaker growth will inevitably work against the government meeting debt-to-GDP objectives, further widening the divergence with the euro area average (Figure 2), and justifying the concerns raised by the national fiscal council.
Figure 2. Public debt trajectory likely to exceed government's projections (% GDP)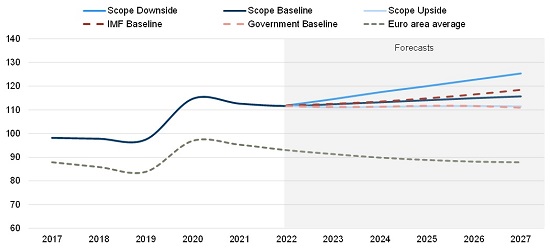 Note: euro area average based on IMF forecasts. Source: Ministry of Finance, IMF, Scope Ratings
That said, we acknowledge the government's pre-pandemic reforms have helped achieve a higher employment rate. The government is deepening the 2021 reform of the unemployment benefit system and plans to revive the reform of the pension system in the first half of 2023, including increasing the retirement age to 65 years in 2031.
As structural reforms can take years to bear effective results, a modest weakening in France's medium-term debt trajectory would not necessarily lead to near-term rating pressures, provided we have sufficient comfort that the momentum behind structural reform persists in the years ahead, and with it, the expectation of significant medium- to long-term economic and/or fiscal dividends.
Thibault Vasse, Associate Director, and Brian Marly, Associate Analyst, contributed to this commentary.
[1] As per the initial project presented by the government, currently under discussion at the parliament